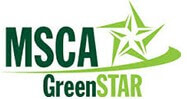 EMCOR Services Combustioneer is a qualified Mechanical Service Contractors of America (MSCA) GreenSTAR Contractor. The MSCA GreenSTAR designation is given to companies who have shown an exceptional commitment to sustainable mechanical service and are recognized as leaders in the green movement within the HVAC services industry.
We are proud of this achievement which required us to meet stringent qualification requirements covering everything from technician certification and training to safety achievements, service standards, and much more.
An MSCA GreenSTAR contractor:
Promotes sustainability throughout their entire organization, from employee training and education to the products and services they offer their customers
Possesses the skills and expertise necessary to help deliver energy-efficient and cost-effective indoor environmental solutions
Fulfills customer needs and seeks to ensure tenant satisfaction by implementing sustainable mechanical service practices
Understands the latest in HVAC green technologies, including equipment upgrade and energy-efficient issues
To learn more about our sustainability and efficiency offerings, reach out today.